There are many opportunities for you to do in the area
If you are the person that likes the outdoors, this is a place for you. It is close to the golden circle, Strokkur geysir, Gullfoss waterfall, The Secret lagoon, hiking trails, horse rentals, river rafting, Snowmobile tours, and other fun activities. Explore some options here below.
​You can experience riding the amazing small, five-gated Icelandic horse in a horse rental in walking distance from the cabins. 
The oldest man made swimming pool in Iceland is heated up with geothermal ground heat and is located about 9 km away, in Flúðir.
Laugarvatn fontana is a nice relaxing geothermal baths with sauna and a restaurant.
Litla melabúðin, located in Flúðir, is a little market in a greenhouse where they sell vegetables, meet, jams and more products from the farmers in the area.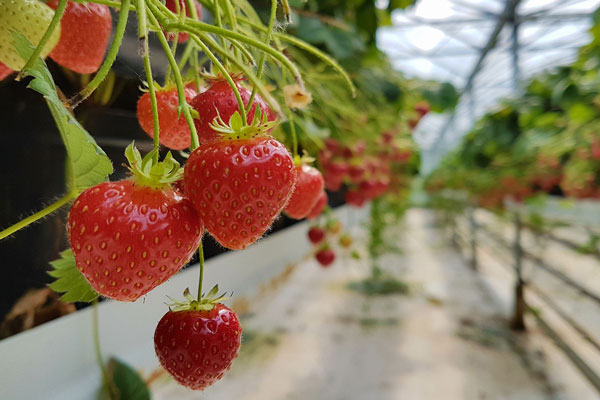 Silfurtún - A strawberry farm
Two houses away from Litla Melabúðin is Silfurtún, a strawberry farm where you can buy fresh strawberries right of the plant! (it is seasonal).
Go with local guide rafting on Hvítá
If you are in for the adrenalin kick, river rafting or riverjet on Hvítá river would be the thing to do!
At Flúðir golf club you can take a shot at the driving range or a round at the 18 hole golf course and then have a nice meal afterwards.
In the area you can find local food, ethiopian food, pizzas, fish and chips and many more options. Here are links to some of the restaurants.
Many people don't know that Icelanders have a very strong culture for swimming pools. You can find a pool with hot tubs and sauna in almost every town and they cost way less than the tourist spas.
Snowmobile tours on Langjökull glacier
Combining beautiful nature with adrenalin rush, these tours go onto Langjökull glacier to see icecaves and more.
Snorkling between continents
Þingvellir is located at the boundaries of the North-American and Eurasian tectonic plates. The plates have been drifting apart making cracks that you can now snorkel or dive in!
Hiking in Icelandic highlands
There are many hiking trails around. Here you can see some interesting ones.
Only an hour and 15 minutes away is the Landeyjarhöfn pier where the boat goes to Vestmannaeyjar islands. It is a magical place with so much history, so many activities and beautiful nature.
A little village where volunteers and people with disabilities live and work making and selling all kinds of arts, candles, ceramics and more. There is also a cozy coffeehouse and more interesting things to see.
Bakery on Flúðir - Almar baker
Almar baker offers healthy, good handmade breads and pastry. And some excellent coffee in a cozy environment and great service.